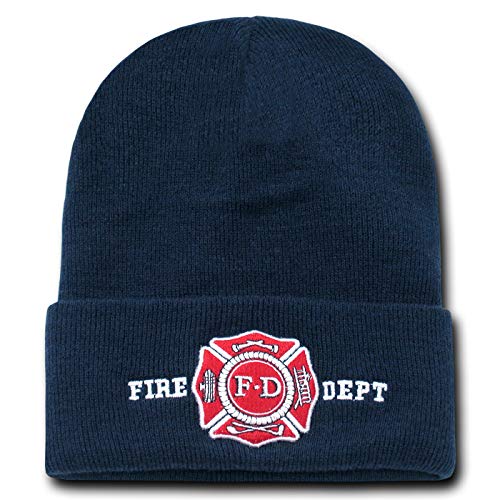 Rapid Dominance Military and Law Enforcement Embroidered Cuff Beanie - Fire Dept
Our licensed classic law enforcement long knit beanies fits any size and features high definition embroidery. Perfect for training in cold weather training or daily use. Available in Army, Navy, Marines, Air Force, Police, and Fire Department.

Once size fits most.
100% Acrylic.
High Definition Embroidery.
Snug Fit.
Imported.
100% Acrylic
Size: One Size Fits Most
Material: Acrylic
Classic Winter Beanie
SIZE

CM

US SIZE

Infant
46 - 48
Youth
51 - 53

6 3/8 - 6 5/8

OSFM
55 - 58
6 7/8 - 7 1/4
S/M
54 - 57
6 3/4 - 7 1/8
L/XL
56 - 59

7 - 7 3/8

XL/2XL
58 - 61

7 1/4 - 7 1/2

2XL/3XL
62 - 65
7 3/4 - 8 1/8
SXL/4XL
63 - 67
 8 - 8 3/8